Olympic Peninsula Long Weekend Trip
I thought I'd share this itinerary in case anybody wants to duplicate this trip.
Olympic National Park Itinerary
3 day camping trip for May/June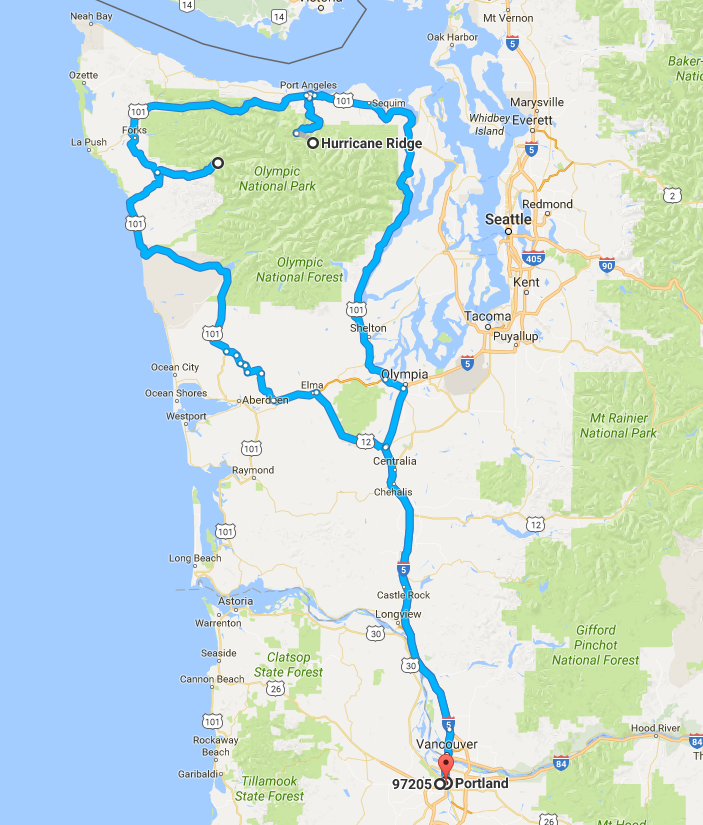 Total driving: 13.5h across 3 days.
https://goo.gl/maps/HRiBCTGULJG2
A clockwise route around the Olympic Peninsula from Portland. Plenty of gas and shops along Hwy 101. Bring lots of cash.
This trip can be extended. Add an extra day between 1 and 2 if you want to check out the far NW point (Cape Flattery). Add an extra day between 2 and 3 if you want to check out Victoria, BC, Canada. Add another day at the end to see Seattle!
The Olympic Peninsula is a great last-minute trip for a weekend with great weather because most campsites are walk-ins only, first-come first-serve. Generally checkout time is 11am, so get there around then for best chances of finding a spot!
Big expenses:
Item
Price
Total

Campsite

$20/night

$40

National Park Pass

$25 for the week, or $80/yr

$25

Firewood

$5/night

$10

NW Forest Pass *(

ePass

requires printer)

$5/day, or $30/yr

$5
Camping resources:
Day 1
Wake pretty early. Hit the road at 9am.
Drive 4 hours on the road to Forks or Rialto Beach.
Lodging: Find camping along the way to Mora Campground.
Many options. Either beach or Hoh rainforest, which "rarely fills up." Call ranger station.
Relax! Worst case scenario, you can pay $12 to camp in a large field behind the "Hard Rain Cafe" which is on the road to the Hoh Rainforest Visitor Center. There's actually a very nice clean bathroom and shower, but not much privacy and wet freshly-cut grass gets all over everything.
Load up this supplementary map if you want to try your luck with some of the lesser-known campsites. We went straight from beach to rainforest on 101, skipping several. https://goo.gl/maps/vq6wXdWmykF2
Stop: Walmart in Chehalis to stock up. Kalaloch Ranger Station to pick up maps.
Do:
Hoh Ranger Station, "Hall of Mosses Trail" (1 mi) and "Spruce Nature Trail" (1.25 mi), or the "5 mile trail" (12mi, flat, out & back)
Creekside Restaurant (near Kalaloch)
Lake Quinnault
Sunset at beach (Rialto Beach possibly)
Bonfire etc.
Contact: Hoh Ranger Station - (360) 374-6925
Add another day? Cape Flattery (NW most point of USA lower 48, $10), Shi Shi Beach. Camp somewhere convenient for your Day 2 adventure.
Day 2
Wake early, hit the road around 8:30am, but earlier is better.
Drive ~2h from rainforest to hurricane ridge. The later you arrive, the longer the entrance line will be…
Lodging: Move to "Heart O' the Hills" campground or nearby.
We found out that half of the campsites were empty at Heart O' The Hills in the middle of a holiday weekend with great weather (on 5-28-2017), despite the sign outside saying "Campground Full"! Talk to the rangers at the gate. Can stay in Port Angeles in worst case.
Do:
Hurricane Ridge. Short trail at Visitors Center, or longer if possible. Movie inside visitor center is neat, too.
Olympic Hot Springs if it's cold out!
Real food in Port Angeles (good food, "Next Door Gastropub" for a long line).
Add another day? Take the ferry from Port Angeles, WA to Victoria, BC, Canada.
Day 3
Wake fairly early. Hit the road around 9am. Could sleep in if desired.
Drive ~1.5h trailhead, ~2.5h home.
Do:
Difficult hike to Mt Ellinor.

Glissading! Best to do in May or June. An epic and doable summit anyway. Google Maps will take you to the "upper trailhead", but watch for giant potholes on the forest service roads.
Note: I didn't see a pay box. A northwest forest pass is a good idea, since signs were posted asking people to pay!! It's a very popular hike, but somewhat remote.

Restaurant: Halfway House (food, between Port Townsend and Staircase).
Add another day? Head to Bremerton, WA to catch a ferry to Seattle.